Balance through dance
Joey Liew has developed a unique technique in dance yoga.

EVEN as a child, Joey Liew Soo Fun seemed destined to dance - she choreo-graphed a dance using a nursery rhyme when she was just five.

Throughout her school days, she participated in various performances, was involved in modelling and also acted in local television programmes while in high school.

Today, she is a dance and yoga instructor of over 12 years and has developed a unique technique that combines dance with yoga and bodywork to encourage rehabilitation and wellness.

Currently based in Vancouver, Canada, Liew is passionate about dance yoga and is writing a manual on it.
"Dance is a form of art and expression. Yoga teaches us how to unite our body and mind.

Generally speaking,yoga helps to create a sense of sensitivity and intellect of our body and mind.
"Once combined, they are like a chemical reaction and the power and benefits are more than merely yoga or dance," said Liew, 38.

(Dance yoga is an approach that combines dance and yoga movements but also incorporates original movements. It offers a complete workout for the body.)

Liew first became involved in yoga and body movement training when she went to New York in 1993 to study contemporary dance at the Merce Cunningham Dance Studio. She completed the programme in 1996.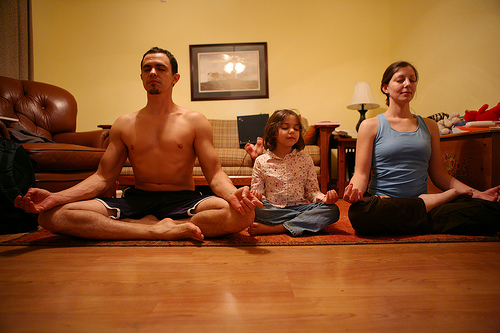 While she was there, she was exposed to and particularly intrigued by Hatha Yoga. She later completed her yoga and prenatal yoga teachers' training programme in Vancouver.

Currently, Liew has four dance and yoga studios in Kuala Lumpur and Selangor, where she offers teacher-training courses.

Liew also used to be a full-time contemporary dancer with the Taipei Dance Circle,Taiwan, touring with the company in Europe, China and Thailand. She also taught and performed with the China Dance Arts Institute and Grace Hsiao Dance Theatre in Taiwan.

Liew's first overseas performance was back in 1988 when she performed in Haadyai, Thailand, with the Guang Xi Dance Troupe of Kuala Lumpur.

The lpoh-bom dancer is also a registered ballet teacher with the Royal Academy of Dance and registered modern dance teacher with the Imperial Society of Teachers of Dancing, both in London.

Liew first went to Canada io 1996 but travelled back and forth before finally settling down there in 2004, teaching ballet and yoga.

"This is also a perfect place for my daughter's education," said the doting mother, who also learnt tap dance, jazz and Pilates, studying under Marta Hernfindez in Canada.

It comes as no surprise that her eight-year-old daughter Grace has taken an interest in dance.
"Grace started ballet classes when she was two-plus. She did about one or two performances organised by The Dance City before she went to school.

"She's kind of failing in love with Yoga Kiddy too. Sometimes I practise yoga with her," said kiew.

However, she remains liberal about what her daughter wants to do when she grows up.

"As a mother and dancer, I know perfectly well that you need a lot of passion to walk on the journey of the dance world. I will not force my daughter to learn dance but I will encourage her if she wants to.

"I would like her to explore anything that she wants to at her age," said Liew, adding that Grace is also learning piano, swimming and ice-skating.
Asked about her most memorable moment in life, Liew said it was giving birth to her daughter.

"I was a professional dancer with the Taipei Dance Circle when I knew that l was pregnant. During my first trimester, it was incredible that I was doing cartwheels and head stands in rehearsals with the other dancers," she remembered.

Currently, Liew's time is spent undergoing yoga teacher training with her partner Blair Catherine Bodie and writing a manual on dance yoga, scheduled for publicatiofi in Taiwan this year.

"I started to teach dance yoga about four years ago and my students liked it very much.
However, because of my travels, i have to cancel classes at times."

Her students then asked if she had a book or manual for them to help them with practice while she was away.

"That motivated me to write a book about dance yoga, which I would like to share with anyone who loves to move," said Liew, who has also written articles for Chinese newspapers and magazines.

In the long ran, Liew hopes to continually expand her approach to bring balance back to the body.

"My knowledge of anatomy tells me to see the human bndy as a whole. A lot of students come to my class complaining of back pain. After examining and finding out their daily habits, I find that most of them have bad postures without even realising it.

"Bad posture causes shallow breathing, which in turn leads to bad moods and there fore, imbalance. It is crucial to learn to be aware of our body and mind to bring balance back to the body so that it can carry out our daily activities without any burden," said Liew.
More Reads